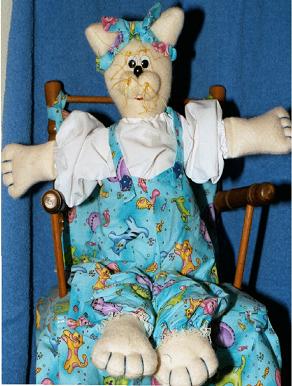 CJCats Creations... for the Cats & Cat Lovers in Your Life
Buttons & Bows Cat Dolls

The Buttons & Bows Gang are designed to bring enjoyment to anyone who loves the playful nature of cats. Sturdy enough to be active playmates for your young (or young-at-heart) cat lover. These are the dolls you can really play with because everything is sewn on (eyes, nose, whiskers, clothes, hairbows). The Buttons & Bows dolls have floppy "Raggedy Ann" arms and legs with big paws, puffball noses and those goofy roley-poley eyes. Each is truly an individual and comes with a name so you immediately know the identity of the precious kitty who has stolen your heart. They are made of high quality felt and are stuffed with polyester fill with an ample handfull of plastic beads in their hips so they can sit-up properly. Although not recommended for the very young, (under 3 years of age) they do make wonderful playmates for children who are no longer teething. Their prices are based on the doll's size and don't include Shipping & Handling. Please email me for shipping and handling prices.
14 Inch Doll = $15.00 US
23 Inch Doll = $18.00 US
25 Inch Doll = $21.00 US
28 Inch Doll = $25.00 US
Do you know someone who is looking for a kitty to love?