CJcats Creations...for the cats and the cat lovers in your life!
Tents ...for Cats, Small Dogs, Barbies and Action Figures.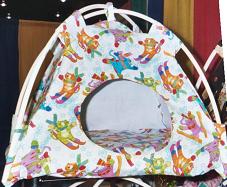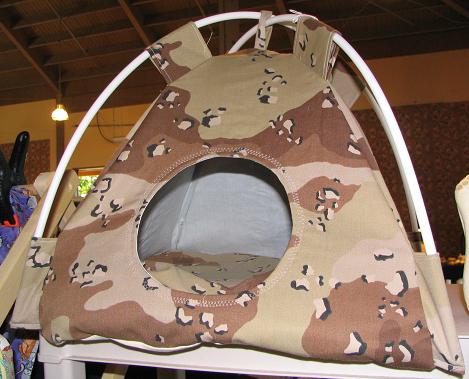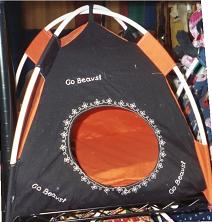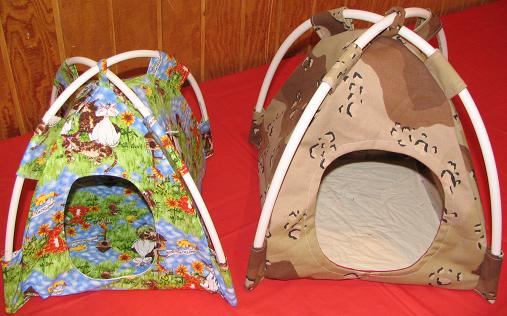 My line of tents has really been popular with customers at craft shows in the Pacific Northwest since their introduction. The tent walls & floor are lined. The machine stitching throughout is reinforced or serged using top quality polyester threads. Some decorative stitches are incorporated around the entrance portal. And the tents are available in a wide variety of fabrics. Altogether, these features make a CJCats tent the best value you can find in a hand-crafted indoor cat / small dog shelter.
I routinely stock tents in a wide variety of cat & dog prints, military camouflage prints (desert & forest), and team colors for Oregon State University & University of Oregon. I now make pet tents for the University of Washington and Washington State University. Other team's colors and mascots can be ordered upon request.


These spacious shelters (approximate size 19 Inches High, 16+ Inches Wide, and 16+ Inches Deep) are suitable for any size cat or small dog. Each tent comes with a pair of support poles and a removable lined foam rubber pad for added comfort. The price of $35 US + S&H is a remarkable value.

Smaller tents, perfect for a Barbie or Action Figure, were added to my product line to provide a more economical tent when pet comfort is not an issue. These tents do not come with a removable foam rubber pad. The price for each of these play tents is $15 US + S&H.

I have also added larger tents (approximate size 27 Inches High by 25 Inches Wide and 25 Inches Deep) on special order basis for $80 US Plus Shipping & Handling. Perfect for multiple cats or medium size dogs. These come with the removable foam rubber pads with matching cover.